---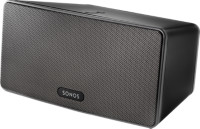 Both Sonos and Airplay allow you the capability of enjoying your music in multiple rooms in your home, far removed from the computer library that stores them. Both feature control options from iOS and Android devices like popular smart phones and tablets. Both are also capable of utilizing popular streaming services like MOG, Spotify, Pandora, Rhapsody and more. With this impressive list of capabilities, they are both great options – so what's the difference?

The Network:
One of the key differentiators with how a Sonos system works is the network itself. An Airplay system relies on your home's wireless or wired LAN network (local area network) to operate. Sonos chooses to create its mesh network instead. Why did Sonos choose to go this route, you ask? In a word – stability. LAN networks are affected by network use as the pipe (or bandwidth) has limitations. When large files move or stream on the network, that bandwidth is reduced. Occasionally, the demands cause packets of information to be lost, and this manifests itself as a dropped signal (gap in the music playback). Because this kind of thing is bothersome to many users, Sonos chose to create a separate, smarter network for your favorite music to ride.
A Sonos system relies on a bridge to interface with your router as the access point to hook up to your computer's music library, and it allows for control signals, if you are using your smart phone or tablet, to control it. The actual signal that is sent to its "Zone players" is its own mesh network from there. This means that when properly set up, there will not be interference with your home's wifi network. And one of the really great things about a mesh network is that the more devices that are on it, the stronger it gets. The reason is because a mesh network won't always look for the central point for information. Each and every device is capable of both receiving and transmitting signal, and smart enough to know when to do so.
Sometimes technology is best understood by a practical example. Let's say you are listening to a zone player in your living room, and the signal is being streamed from the bridge that's hooked to your router. Interference from an adjacent room causes the signal to weaken. Another zone player in the bedroom has a clear line of sight to the bridge and is unaffected by the interference. The bedroom zone player will recognize this, and become the link to the living room zone player automatically. Self-healing networking allows your music to continue playing, uninterrupted.
Different Rooms, Different Songs, Simultaneously:
One of the other key differentiators with a Sonos system is that it allows you to listen to different songs in different rooms (zones) at the same time–all from a single library of music (even iTunes). Airplay is designed as a point- to-point technology–streaming one iTunes license to a listening zone (or an application on your handheld device through that iTunes license to the listening zone). Both systems let you hear the music in multiple rooms, but with a Sonos system you can have up to 5 different songs playing in different rooms. If you have multiple users that want to listen to what they want when they want it in your home, this is a key feature.
Multiple streaming options in a single menu:
Airplay's access to popular streaming services like Pandora and Spotify is application-based. This means that you open the application to use it and then select the Airplay speaker(s) that you want. With Sonos, your computer's library of music and streaming services are all in the same menu, making access quick and convenient. Access to these services is limited to the ones that Sonos incorporates, so there may be a service you can do on your iOS or Android device that Sonos has not chosen to include. However, this is pretty unlikely in my experience, as all the majors services are covered.
No go for Video:
Sonos is designed for music only. Airplay is also capable of streaming video, and pictures. In fact, you can playback a video from your iPhone or iPad right to your Apple TV (hooked up to your television) wirelessly with Airplay. Of course, you can use a Sonos system for music, and use an Apple TV and Airplay for video and have it all.
Whether you select Airplay or Sonos, it's great to be able to listen to music on your terms – what you want, when you want it.
Next week, look for a comparison of popular music streaming services: Spotify, MOG, and Pandora.